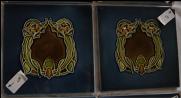 These beautiful antique architectural Majolica Pottery ceramic tiles have "Made in England" stamped on the back and are believed to be manufactured circa 1900.

They may have come from a wash stand or a cast iron fire surround.

Each tile has a lustrous blue background, with a raised art nouveau pattern motif of leaves, vines and flowers glazed with cream, yellow and brown pigments.

In very good condition, the surface is bright and clear, with very minor, thin vein crazing under the glaze.

Measures approximately 150mm x 150mm x 9mm

They were purchased in Adelaide in the 1970's but were never put to use as intended.


Nos #1 #2 and #3 are in perfect condition:

No #3 is in perfect condition:

Nos #7 #8 #9 and #10 have a large-ish chip:

Nos #5 and #6 have just one small chip:

Nos #11 has one chip and #12 has two chips:

No. #1 tile and tile #2 have been sold. The remaining 10 are still for sale.