magnavox 830 speaker enclosures

in 1972, i built these speaker enclosures from an electronics australia project.

the design called for the use of a magnavox 8-30 bass speaker with a 2 way crossover feeding the (then) new philips 1" tweeter.

at the time, ea opined that there were "able to equate these speakers with the best speaker systems costing five to ten times as much."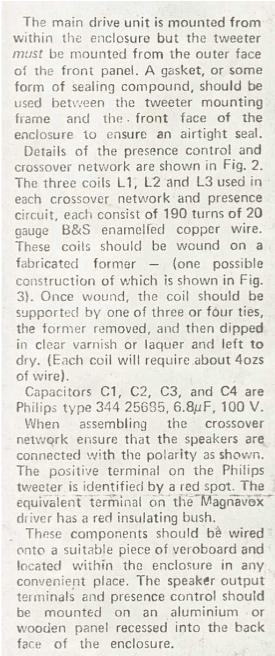 the revised design overcame a small frequency drop at 5khz, and ea were able to say the results "have been extraordinarily successful, in fact, the response is now substantially flat from 70hz to 20khz"

as the system had cost me around $a100, which at the time was equal to the average weekly wage, you can see that these were seriously good speakers!!

in 2001, my mate bill holman and i blew up both tweeters and one of the magnavox speakers playing loud blues in the early morning over a couple of bottles of red wine. i replaced all the speakers with modern equivalents.

i used these speakers as my main stereo system for 30 years until i replaced them with the mackie hr 824

weight: 16.5 kgs each dimensions: 61 x 40 x 28cm

with the advent of the dolby 5.1 surround sound systems, i incorporated a bass woofer, using the same dimensions as the magnavox enclosures.

speaker rating: 100w rms
weight: 16 kgs